Introduction:
Who we are
"Karuvi" an organization based in Jaffna, Sri Lanka, is for the disability and development and committed to improving the quality of life of persons with disabilities and also at the risk of disabilities in Sri Lanka. Its vision is an inclusive world in which all persons with disabilities enjoy their human rights and achieve their goals with potential partners in the society.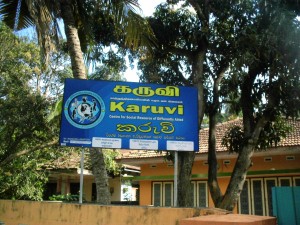 This organization now comprised with people who are visually impaired or complete blindness, Deaf, Loss of limb activities and retarded mental abilities like autism and other besides psychologically affected. They are also humans and have skills in a particular field at least. In this region we call them as 'differently abled' people.
Reasoning:
It is known that there are functioning many organizations to look after the benefits for the differently abled persons but increase of population needs decentralized activities to enhance the standard of living of such people. Despite, still we see inadequacy to reach targets. We think offering courses and possible assistance so that the person can achieve an optimal degree of autonomy considering their particular circumstances. This may be considered as basic rehabilitation in the case of adults and early rehabilitation when it is for a child. We could at least cover a particular area and help the other organizations too, when working in collaboration.
Structure :
Karuvi is a Registered Organization under the law of the Country and wholly depends on well-wishers, donors, persons voluntarily interested towards such activities and on the society for its existence and functions.
The organization as a whole is governed by a strong Board comprising eleven (11) members who are elected by the general body. The persons selected on the basis of their experience towards activities of such organizations.
Mr. Nagalingam Vethayagan, Government Agent for Jaffna District, 'Chengchotselvar' Dr. Aru.Thirumurugan and Reverent Father Stalin are the patrons of the current period.
What we do
Karuvi has professionals and learned people in the background to support its plans and projects. In addition the Board members have adequate experience to handle matters relevant to such like organizations. At this infant state (Established in June, 2011) it is in the process of finding the further needs to the differently abled (disabled) people but already collected considerable data with the help of its members at present. However, from the preliminary study Karuvi has identified the following needs to be implemented primarily:
 Collecting data in details of Differently abled (Disabled) people to the maximum.
 Basic Education for differently abled children and children of differently abled people.
 Arrangements to provide vocational training in respective field with regard to the abilities of the person.
 Making marketing opportunities for the products of differently abled people.
 Providing counseling to people who were affected under unforeseen circumstances to bring them in to the stream of society.
 Arrangements for funding/monetary assistance to the need of the differently abled persons.
 Conducting Awareness Programs among the society to convince the rights of differently abled people same as to that of normal persons.
 Construction of an Audio-Visual Library and make it updated to the trends.
 Making differently abled people as fruitful partners of the society and prove they are capable to contribute equally.
Work in Progress :
Karuvi is trying not only build to up the economic standard but also saw self-confidence in the heart of the differently abled people so that they will get up and face the challenges before them. In this regards for the unemployed adults with a little education standard Karuvi arranges vocational training as to the interest of the person concerned.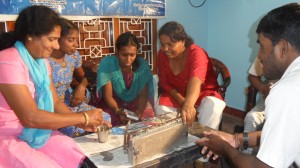 There are even graduated and previous employment experienced people among the unemployed groups. Karuvi find opportunities for them by approaching Academic, Mechanic, Technological and etc. organizations to find places in the cadre for jobs.
Further training in handicrafts and music both vocal and instrumental are arranged and these training programs are sometimes conducted in the Karuvi premises by inviting resource persons. A Unit named "Raga Sruti" has been set up by Karuvi for this and already performed music entertainment on stages.
Karuvi helps its members in the sale of their produce by setting up pavilions or stalls in people gathering places such as temple festivals and make them available with the proceeds. We have enjoyed good response so far in this activity.
Karuvi has a unit for improving the standard of eloquence to its members and encourage them to participate in debate forums. In local language it is called "Paddi Mantram" and is famous among the people. It gives the advantage to the observers to get knowledge of several academic, social and other life related knowledge.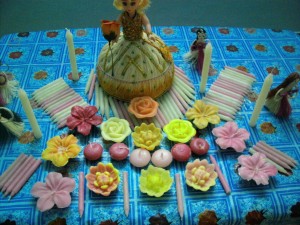 Karuvi gives its attention in prominence in the case of children and works to the maximum to find them to provide them with primary education and other basic needs. In this regard it gets the assistance of the public around so that every child gets its school education to the least.
A training program was held for producing candles on 28.02.2014 following the donation of candle moulds by State Bank of India.
Karuvi is publishing a magazine named "Valu" in quarterly basis to inform its activities and achievements. This magazine comprised of articles contributed by its members and other learned people.
Fund Raising:
There are lots of ways for you to get involved with Karuvi and help it to continue for successful work. With no statutory funding all our income comes from voluntary donations, well-wishers, Organizations and fundraising, so public support is vital.
It is the people who can change the lives with a small contribution a month when they sponsor a 'future' of children and assist an adult to support his family. Everyday we heard of accidents and other incidents that add to the roll of disabled persons and we need your help to reach everyone who approach Karuvi.
When you sponsor a future, you will also be a part of an amazing event in which the lives of several people are transformed to the good.
How You Can Help:
Make Donation – once-off, monthly, quarterly, annually, In Memory, In Celebration, Leave a Legacy
Events – Sponsoring events conducted by Karuvi or conduct events themselves for Karuvi.
Organizations: Payroll Giving (salaries and wages), corporate partnerships.
Gifts and Aids
Volunteer
DONATE NOW AND ALWAYS
Any monetary donations could be made to our Bank Account
or can donate directly to the Organization.
Agreements for donations could be made by contacting the Board.
Other Gifts could be handed over at the Office.
All donations or gifts will be validated with official receipts of the Organization.
Keeping Record and continuity in contacts:
Donors will be given full details of expenditure made using their donations and informed of the usage of gifts.
Every donor will be in touch sending news of events and progresses made.
WHAT WE HAVE DONE SO FAR…..
Vocational Training:
Production of disposable dinner plates:
A handy and weightless dinner plate is useful when ever large crowd of people are invited for dinners or a lunch on meeting. It is hygienic as is used once and for all by a single person.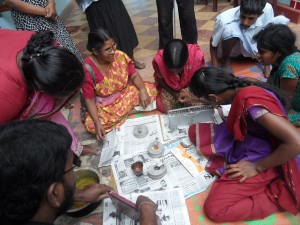 The basic material used is the dried and separated in single form of the cluster of banana tree stem. Two or three of them are joined with and made to a size that could hold enough meals – rice & curry or several short-eats. Somewhat broad clusters could be used in single for short-eats.
The advantage is they can be bundled and kept for months before using. After using, they would be good manure to plants or could be burnt to ashes.
A training program was conducted on 7 July 2013 and considerable number of people participated.
It would be an income producing part-time work.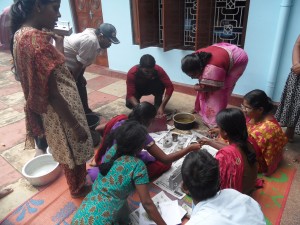 Handicraft articles using Fibres of Banana Tree:
The fibres obtained from the stem of the banana tree could be used as base material for manual arts producing bags, mats and even nice cloth lengths.
It is a highly technical work to extract the fibres from the stem of the banana tree. Though they are obtained in several lengths they could be joined to increase lengths. They are woven to the degree of quality cloth and several articles could be produced. Bags and mats could be woven easily and with durability.
It is amazing to hear that nice dhoti equal to the produce, using silk-worms could be woven with these fibres.
A workshop and limited training program was conducted on 25 July 2013.
The Organization seeks a Sponsor or Donor to have this program to its full.
The goods produced will have a good market and give enough income to the person engaged in such production. This is a skilled profession with full time engagement and in large scale it gives employment to many people.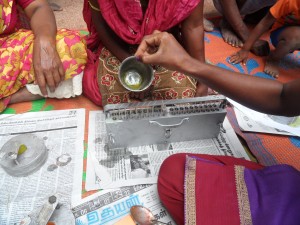 To Build up Further….
Karuvi functions with fewer facilities to maintain its services. Most important is a need of a permanent premise to handle all of its programs. Now it functions in a rented building and needs to pay rent and expenditure of maintenance.
We need music instruments to give training and performance to our members who have the ability. It is now conducted with the dependence of rented articles.
A vehicle is greatly needed to transport and market the goods and articles produce by differently abled people and reduce the burden from them.
To bring up the members to the level of present world, particularly younger generation, they should be given computer based training. At least five computers with accessories is a primary need.
Karuvi is yours..
Karuvi is wholly depended on the hands of donors and well wishers. So for a permanent and stable life of the differently abled (disabled) we request you to join hands with Karuvi.
Karuvi is only a body and it cannot function without helping limbs and organs. Therefore Karuvi invites you all to come and support in the activities and get the satisfaction in the heart that you are also a part and parcel in up lifting the standards with a permanent status of people in the rank of largest minority group of the world.
For all Communications:
Visit our Website – www.karuvi.org
Or
Email: karuvi.org@gmail.com
Or
Post: No. 1166/15, Arulampalam Veethy
Nallur North
Jaffna
Sri Lanka.
Phone: +94(0)21 205 4224
Bank: Commercial Bank of Ceylon
Stanley Road,
Jaffna
Sri Lanka
Account Number: 1127021870